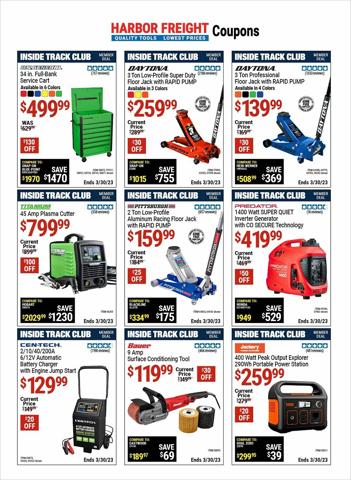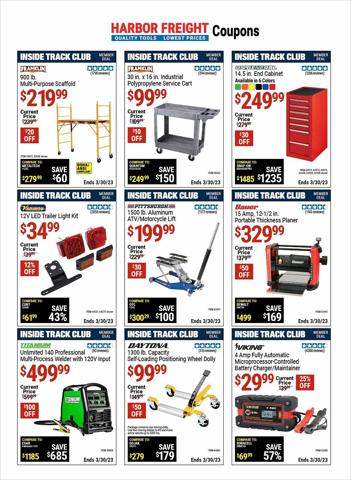 Tractor Supply Company Weekly ad
Looking for the best Tractor Supply Company offers
If you are looking for the biggest Tractor Supply Company discounts you are in the right place. Here on Tiendeo, we have all the catalogues so you won't miss out on any online promotions from Tractor Supply Company or any other shops in the Tools & Hardware category in your city. There are currently 15 Tractor Supply Company catalogues on Tiendeo. Browse the latest Tractor Supply Company catalogue "Tractor Supply Company Weekly ad" valid from 03/27/2023 to 03/30/2023 and start saving now!
Tractor Supply Company, all the offers at your fingertips
Despite its name, Tractor Supply Company sells products for more things than just tractors. You can find home improvement goods here, too!
All about Tractor Supply Company
Tractor Supply Company may have originally started out with all tractor stuff, but over the years it's grown and today you can find all sorts of different products here. They sell things like home improvement products, things you might need to maintain your lawn or garden, agricultural stuff, and items to take care of your pet or livestock.
You might have seen one of Tractor Supply Company's many ads with its famous slogan "The Stuff You Need Out Here." But have you seen the great deals and offers you can get on Tractor Supply Company products? Not only can you find lots of fantastic discounts on their website, but you can also see ads and coupons right here, too. Whether you're buying a tractor or not, there's sure to be a discount out there for you!
The history of Tractor Supply Company
Tractor Supply Company was founded in Brentwood, Tennessee, in 1938. It has around 1,500 locations and operates in 49/50 of the U.S. states. Its headquarters are still in Brentwood.
As the name suggests, this store actually did start out by selling all tractor things. Specifically, it was a mail order tractor parts business that was founded in 1938. Their first physical store was opened the following year, in 1939, in Minot, North Dakota. Today, it's one of the biggest chains in the United States.
To celebrate its 75th birthday, the store's leader sgot to ring the bell at the New York Stock Exchange.
Everyone can get a chick at Tractor Supply Company.
Ever wondered where everyone gets their chicks? Well, you can go to Tractor Supply Company's chick days. And by chicks we mean actual baby chickens – what were you thinking?
The stores sell pretty much anything you'd need to dive into the rural lifestyle, ranging from garden tools to outdoor work clothing to animal care stuff. Now, that includes chickens, too, aimed at people who are into the "backyard-to-table" movement.
Customers take home the chicks for both meat and eggs, though many end up just eating the eggs as they take a liking to the chickens.
If chicks aren't your thing, the stores also sell ducks. Prices start from $1.99.