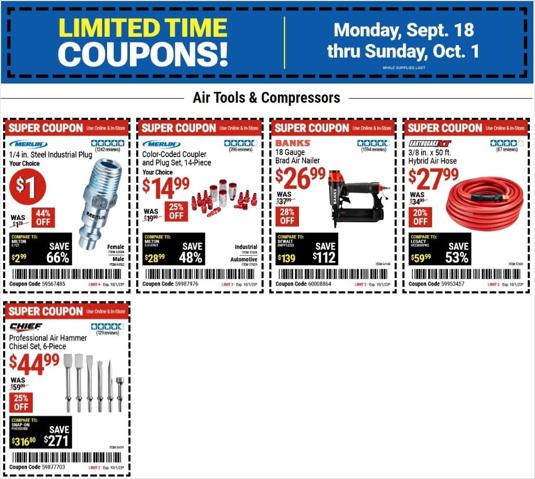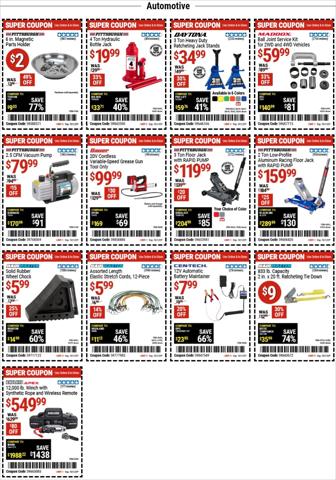 Harbor Freight Tools weekly ad
Looking for the best Harbor Freight Tools offers
If you are looking for the biggest Harbor Freight Tools discounts you are in the right place. Here on Tiendeo, we have all the catalogues so you won't miss out on any online promotions from Harbor Freight Tools or any other shops in the Tools & Hardware category in your city. There are currently 2 Harbor Freight Tools catalogues on Tiendeo. Browse the latest Harbor Freight Tools catalogue "Harbor Freight Tools weekly ad" valid from from 18/9 to until 1/10 and start saving now!
Find Harbor Freight Tools catalogs in your city
Harbor Freight Tools, all the offers at your fingertips
Harbor Freight is a tool and equipment retailer with over 600 stores in 47 states, though it originally started as a mail order service.
All about Harbor Freight
Harbor Freight sells discount tools and equipment, which you can buy in their physical stores, online, or via mail order. They have a lot of in-house store brands that you can only get at Harbor Freight, including US General (which makes products to store your tools), Portland (for electric outdoor equipment0, and Predator (for gas-powered engines and gas generators).
Some of the most popular products you can find at your local Harbor Freight location include power tools, engines, generators, equipemnt for welding, winches, floor jacks, and of course items so you can store all your tools. Their website offers regular Harbor Freight coupons and discounts, and you can get even better deals by signing up for their Inside Track Club. Members of the club get access to special offers that are only for members, as well as perks like early entry to Harbor Freight sales.
The history of Harbor Freight
Harbor Freight is a tool and equipment retailer with over 600 stores in 47 states. They sell a range of more than 7,000 products and have over 11,000 employees. The first store was founded in 1977 in North Hollywood, California, and it was opened by father-and-son duo Allan and Eric Smidt. It was initially a mail order service for tools.
Their first retail store was opened 3 years later, in 1980, in Kentucky. The store sold merchandise that had been returned from the mail order service. Because the store was so successful, Harbor Freight started to open more and more stores and expanding across the United States. Today, they employ 17,000 people.
ToolCrib.com features a blogger who has created the ultimate guide to buying Harbor Freight products.
Website ToolCrib.com has a large guide entirely dedicated to Harbor Freight's selection of tools and equipment. It includes a detailed list of 150 items they deem "good enough" to buy from there and a humorous list of things they don't recommend getting from Harbor Freight.

The guide breaks things up with a humorous list of things never to buy at Harbor Freight (including parachutes, elevators, and scuba gear) and a few silly but derogatory nicknames for the shop (think "Harbor Fright" or "Harbor Hate").

The bulk of the guide is made up of "The List: Good Enough, the Bad, and the Abysmal" that categorizes products from Harbor Freight. Harbor Freight will probably be relieved that "The Good Enough" items outnumber "The Abysmal" ones.