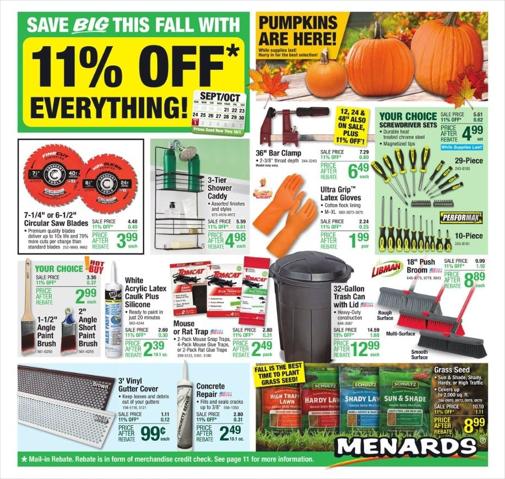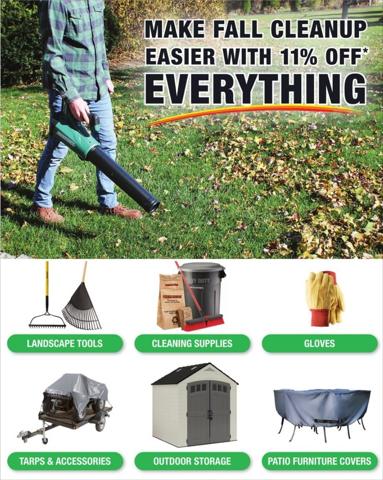 Menards Weekly Ad September 21 – October 1, 2023
Looking for the best Menards offers
If you are looking for the biggest Menards discounts you are in the right place. Here on Tiendeo, we have all the catalogues so you won't miss out on any online promotions from Menards or any other shops in the Tools & Hardware category in your city. There is currently 1 Menards catalogue on Tiendeo. Browse the latest Menards catalogue "Menards Weekly Ad September 21 – October 1, 2023" valid from from 22/9 to until 1/10 and start saving now!
Find Menards catalogs in your city
Menards, all the offers at your fingertips
After The Home Depot and Lowe's, Menards is the third-biggest home improvement chain in the United States.
All about Menards
Menards is a home improvement and hardware store that was founded in 1960. There are Menards locations in 14 different states, mostly in the Midwest (Wisconsin, Ohio, Illinois, Indiana, Michigan, Minnesota, Nebraska, South Dakota, North Dakota, Kentucky, Missouri, Kansas, and Wyoming).
Some of the most popular products sold at Menards include building materials, items needed to build a bathroom or kitchen, electrical goods, and flooring and rugs. You can often get good deals on their products as they run frequent sales.
If you don't feel like waiting around for a sale, you can also check out the Menards Weekly Ads to see what offers they have at the moment. You can either find the ads on their official website (menards.com) or right here. If you see one of ther television ads, you'll almost certainly recognize it quickly - they always have banjo music playing!
The history of Menards
Menards was founded in 1960 when John Menard Jr. opened up shop in Eau Claire, Wiscosin, after he graduated from the university there. He got into the business because he'd been doing a bit of building work to pay for his education. He kept having to hire more and more crews and buy more and more supplies so that he could keep up with the pace of the work.
Today, the stores have multiple distribution centers, and some of their larger stores have also started selling groceries. They make around $7.9 billion annually and employ approximately 45,000 workers. Forbes ranked it as the 43rd-largest private company in the U.S.
Menards agrees to drop toxic chemical from its products
Menards locations will no longer be selling vinyl flooring that contains phthalates, a toxic chemical linked to both reproductive and developmental problems.
Two of Menards' biggest competitors, Lowe's and Home Depot, have also publicly stated that they will no longer be selling products that contain phthalates.
The chemical had already been banned from a range of products for children, but not for flooring. However, many environmental groups were worried about the chemicals from the flooring harming children who spent a lot of time playing on the floor.
The company's spokesman stated that less than 7.5% of Menards products for flooring had contained phthalates in the first place.