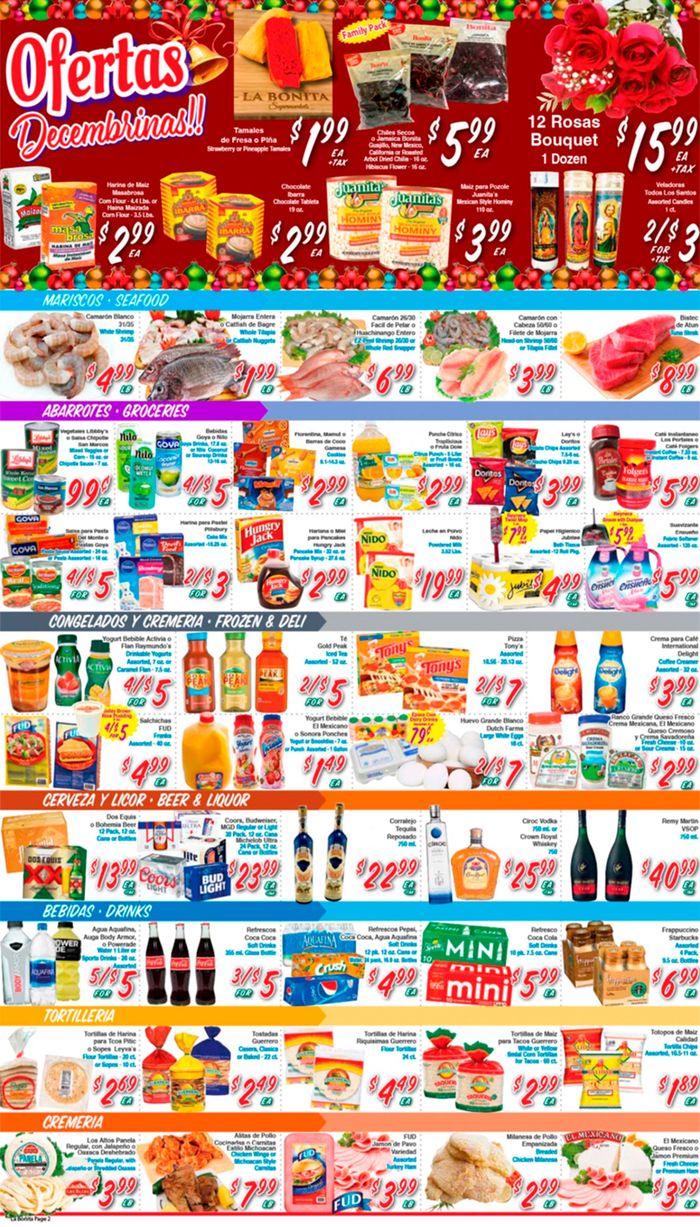 La Bonita Supermarkets weekly ad
Looking for the best La Bonita Supermarkets offers
If you are looking for the biggest La Bonita Supermarkets discounts you are in the right place. Here on Tiendeo, we have all the catalogues so you won't miss out on any online promotions from La Bonita Supermarkets or any other shops in the Grocery & Drug category in your city. There are currently 2 La Bonita Supermarkets catalogues on Tiendeo. Browse the latest La Bonita Supermarkets catalogue "La Bonita Supermarkets weekly ad" valid from from 6/12 to until 12/12 and start saving now!
Find La Bonita Supermarkets catalogs in your city
La Bonita Supermarkets, all the offers at your fingertips
Advance Auto Parts is a retailer that sells just about anything you might need for your car, including replacement parts and accessories.
All about Advance Auto Parts
As the largest retailer of auto replacement parts in the U.S., Advance Auto Parts is the place to go when you need just about anything for your car.
And anything really means anything. Advance Auto Parts puts out monthly flyers online that show the current specials, and referral and freebees with certain purchases can help you save a bundle. Online-only coupons are offered at various times throughout the year, so keep checking back to get maximum savings at Advance Auto Parts! You can consult both their official website and the section on Tiendeo for the most current offers.
Apart from being able to find things here, you can also feel good about shopping here, too - the store has been recognized for its fundraising efforts to stop juvenile diabetes.
The history of Advance Auto Parts
Advance Auto Parts started in 1932 when its founder, Arthur Taubam, bought two Advance stores from the Pep Boys. In 1998, the company took a major step towards expanding into the large company it is today when they acquired Western Auto, a general store that sold auto parts at the time.
Over the year, Advance Auto Parts has been able to expand by acquiring other companies multiple times. That's part of the reason they have so many Advance Auto Parts locations today - over 5,000 at the latest count! They also employ upwards of 74,000 people and are headquartered in Roanoke, Virginia. Fun fact: this is where one of the original Advance stores was located!
How many potholes can one car take?
Advance Auto Parts looked for the answer to that question after launching their "Pothole dummy" campaign in Chicago. They based the campaign on research that shoes that potholes cost drivers as much as $3 billion every single year. Yes, $3 BILLION! That's some serious cash.
The campaign consisted of videos witl all sorts of people, including Michelle Williams, in a car as it went through a series of test drives where people purposely hit potholes. You can watch people have pothold showdowns, and don't miss the "Final Diagnostic Check" video either.
They hit a total of over 1,000 potholes over a course of 255 miles, with an average of 4.35 potholes per mile. Check out the videos for yourself - they're pretty entertaining to watch! The official websites claims that it's "the most insane pothole pounding experiment the world has ever seen." We have to say we agree!