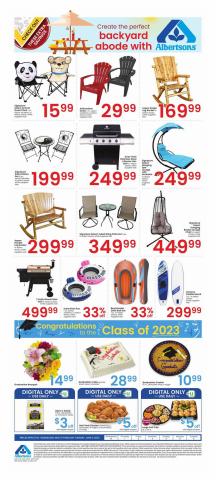 Albertsons - Intermountain - SP
Looking for the best Albertsons offers
If you are looking for the biggest Albertsons discounts you are in the right place. Here on Tiendeo, we have all the catalogues so you won't miss out on any online promotions from Albertsons or any other shops in the Grocery & Drug category in your city. There are currently 3 Albertsons catalogues on Tiendeo. Browse the latest Albertsons catalogue "Albertsons - Intermountain - SP" valid from 05/31/2023 to 06/06/2023 and start saving now!
Find Albertsons offers in your city
Albertsons, all the offers at your fingertips
Albertsons is a chain of grocery stores based out of Idaho.
All about Albertsons
Albertsons is a chain of grocery stores all over North America but based in Boise, Idaho. Their slogan promises, "You're in for something fresh." The stores might operate under a slightly differnet name depending on where you're located. For instance, they're called Acme in Alaska, Jewel-Osco in Illinois, Iowa, and Indiana, and Safeway all over the country. There are also lots of Albertsons, of course!
The stores include a variety of items, so you can get all your shopping done here. They also have several store brands, which offer products similar to name-brand ones but at lower prices. If you're looking to save even more money, add Albertsons to your favorite stores right here on Tiendeo so we can alert you when there are greats deals and Albertsons coupons. You can also visit their official website, www.albertsons.com , where you can view their weekly ad and check out special deals in your area.
The history of Albertsons
Albertsons actually was started by a man named Albertson! Joe Albertson, to be exact. He opened up his store in 1939 in Boise, Idaho, which quickly gained a great reputation for having all the latest perks, from free parking to an ice cream store.
Albertson put all his profits right back into expanding his business, and expand it has. Today, there are over 2,200 Albertsons locations across the United States!
Albertsons stands out from the crowd with perks
When Joe Albertson opened up his very first grocery store back in 1939, he added a lot of special perks so as to draw in more customers. It worked, and the idea is still working well today!
Things have changed a bit since the 1930s though, so it's no surprise that the perks have too. For instance, lots of the locations now have banks and pharmacies included. The newer stores that have enough space have things like a Starbcuks coffee counter, pizza made in-store, juice and salad bars, and a wide range of prepared foods ready to take home and eat.
They've also tested a 'Shop N'Scan" system that lets shoppers check out as they add things to their basket so they can pay before leaving the store. It's been removed from some stores recently.
One option that has stuck around is the option to shop online and pick up your groceries in store or have them delivered to you.