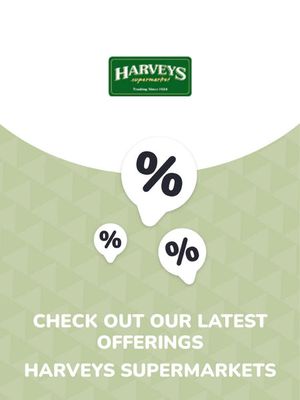 Offers Harveys Supermarkets
Looking for the best Harveys Supermarkets offers
If you are looking for the biggest Harveys Supermarkets discounts you are in the right place. Here on Tiendeo, we have all the catalogues so you won't miss out on any online promotions from Harveys Supermarkets or any other shops in the Grocery & Drug category in your city. There is currently 1 Harveys Supermarkets catalogue on Tiendeo. Browse the latest Harveys Supermarkets catalogue "Offers Harveys Supermarkets" valid from from 11/10 to until 11/10 and start saving now!
Harveys Supermarkets, all the offers at your fingertips
Lan Airlines is the largest airline in Latin America.
All about Lan Airlines
Lan Airlines is an airline that's based in Santiago, Chile, and the largest airline holding company as part of LATAM Airlines. Their hub is Comodoro Arturo Merino Benítez International Airport in Santiago, and they also have secondary hubs in Bogotá, Lima, Guayquil, and Buenos Aires. They fly to 66 destinations all over the world, and have a fleet of 150 airplanes. Their slogan is "Juntos, más lejos", which means "Together, furthur."
Are you interested in saving money when shoping with Lan Airlines? Then don't forget to add them to your favorites right here on Tiendeo! This means you'll always be in the know when there are great Lan Airlines sales happening so you can get the very best prices on tickets. You can also head on over to their official website, www.latam.com, where you can subscribe to their e-mail newsletter to get alerts about special fares and discounts that are exclusively for subscribers.
The history of Lan Airlines
Lan Airlines first began operations in 1929, though back then they were the Postal Air Line Santiago-Arica. In 1932, it became the National Airline of Chile, which is where its name comes from (in Spanish, it's Línea Aérea Nacional de Chile - LAN). In 2013, they merged with Brazilian airline TAM Airlines and became te LATAM Airlines Group. This is the largest airline holding company in Latin America.
Fun facts about Lan Airlines' latest plane
For aviation geeks, it's always big news when there's a brand new airplane out. There are always exciting new developments that they're eager to share with their flyers. Do you want to find out a bit about Lan Airlines' latest plane?
The plane is the 787-9, the Dreamliner for the airline. It's painted with their new company name, LATAM airlines, in the red and blue colors on a white plane with a striped tail.
The plane uses up to 20% less fuel and produces 20% fewer carbon dioxide emissions than similar planes, and can also travel more miles without having to take a break. This makes it more environmentally friendly!
The windows and storage bins are both bigger for passengers. To make them more comfortable, they also have LED lighting and the latest air humidification techniques.
Each set comes with its own touch screen entertainment system.