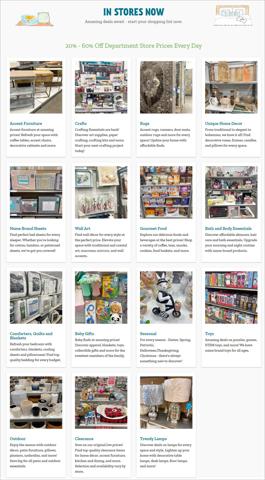 Tuesday Morning Weekly ad
Looking for the best Tuesday Morning offers
If you are looking for the biggest Tuesday Morning discounts you are in the right place. Here on Tiendeo, we have all the catalogues so you won't miss out on any online promotions from Tuesday Morning or any other shops in the Home & Furniture category in your city. There is currently 1 Tuesday Morning catalogue on Tiendeo. Browse the latest Tuesday Morning catalogue "Tuesday Morning Weekly ad" valid from 03/24/2023 to 03/30/2023 and start saving now!
Find Tuesday Morning offers in your city
Tuesday Morning, all the offers at your fingertips
Tuesday Morning is a closeout retailer that sells home furniture and decor.
All about Tuesday Morning
There are lots of places you can get a great deal on furniture, although not many of htem have as good of a selection as Tuesday Morning does. This store specializes in snapping up name brand and designer items that are getting closed out elsewhere. Then, they offer the same products to their customers but at deeply discounted prices. It's basically like having clearance prices all the time.
You can get even better discounts on their items, though - even though their prices are already low. Add Tuesday Morning to your favorite stores right here on Tiendeo and we'll make sure you always have all the latest coupons and offers in one place. You can also check out hteir current offers on their official webiste, www.tuesdaymorning.com, where you'll often find great coupons to take even more off the already low prices. If you sign up for their official newsletter, you'll get access to exclusive discounts and coupons. What are you waiting for?
The history of Tuesday Morning
Tuesday Morning has been around since 1974, and its combination of great offerings plus low prices meant that the store has grown quickly. By 1998, there were 330 Tuesday Morning locations in 35 different states, which went up to 441 stores in 41 states over the next three years. Today, those numbers are only increasing. The store is based in Dallas, Texas
Get inspired at the Tuesday Morning blog
Tuesday Morning is all about finding and getting great deals, and there blog has tons of different wasy you can do that! It's a great place to find inspiration for your house and home. It includes DIY projects you can do, updates about what's trendy in the world of home decor, and tips and tricks for keeping your houes spotless. They also occasionally feature their products so you can get the inside scoop about what's the best to buy at their store.
One great post is all about how you can make your bedroom more cozy. They suggest lots of great tips, like buying luxurious sheets with extra-soft fabric, adding hints of metallic touches, and finding a few touches of faux fur. They also suggest using gauzy white curtains to give the room an extra touch of coziness.
Of course, this post also showed you which of their products to buy to get the look yourself!