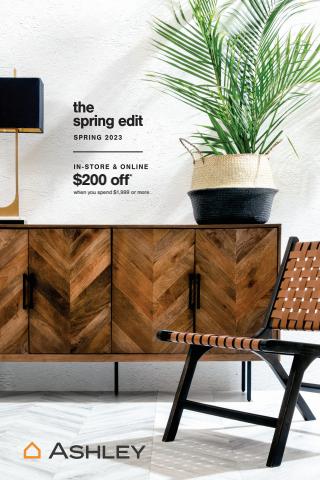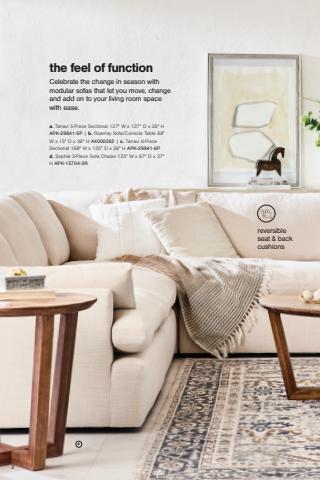 Ashley Furniture weekly ad
Looking for the best Ashley Furniture offers
If you are looking for the biggest Ashley Furniture discounts you are in the right place. Here on Tiendeo, we have all the catalogues so you won't miss out on any online promotions from Ashley Furniture or any other shops in the Home & Furniture category in your city. There is currently 1 Ashley Furniture catalogue on Tiendeo. Browse the latest Ashley Furniture catalogue "Ashley Furniture weekly ad" valid from 03/24/2023 to 06/21/2023 and start saving now!
Find Ashley Furniture offers in your city
Ashley Furniture, all the offers at your fingertips
Ashley Furniture is one of the biggest retailers and manufacturers of furniture for your dining room, living room, or bedroom.
All about Ashley Furniture
As the name suggests, Ashley Furniture sells, well, furniture! They're headquarted in Wisconsin and hae stores all over the U.S, as well as distribute their products worldwide. There are currently more than 600 Ashley Furniture locations in the world.
Whether you're looking for new furniture for your room, dining room, or living room, Ashley Furniture stores have it all! Ashley Furniture puts on awesome holiday sales that are definitely worth checking out. Even without holiday sales, many items are marked down, and rotated through that markdown process. No matter what though, you'll find a good deal, and a great place to start looking is online. So stay put!
The history of Ashley Furniture
Ashley Furniture was founded in 1945 by Carlyle Weinberger and sold wooden furniture and products that had been made by a local company. In 1970, they started making their own furniture, and by 1982 they were getting $12 million in sales per year and had a range of around 350 different products.
By 2000, the stores were so big that they had more employees at their Arcadia, Wisconsin factory than the total population of Arcadia!
Today, there are about 600 Ashley Furniture locations and they have manfacturing plants in location all across the United States, plues ones in many countries in the Pacific Rim, the largest of which is in China. It is the largest seller of furniture and is run by CEO Mark Dufrense.
Donations from Ashley Furniture helped build a park
It's always nice to hear about a company or store giving back to their community, and Ashley Furniture has a particularly touching example. Using donations from the stores, Ron Wanek (who founded Arcadia Furniture, which would become part of Ashley Furniture) decided to design and build a park.
But it wasn't just any park. It was Memorial Park, dedicated to the memory of American soldiers who have served in wars over the centuries since the country was founded. The park has a walkway that's also a timeline. It takes you from the very beginnings of the United States and moves forward in time. For each war the United States has fought in, there is a monument placed along the walkway at the appropriate spot on the timeline.
The park is located in Arcadia, Wisconsin, where Ashley Furniture's headquarters are today.