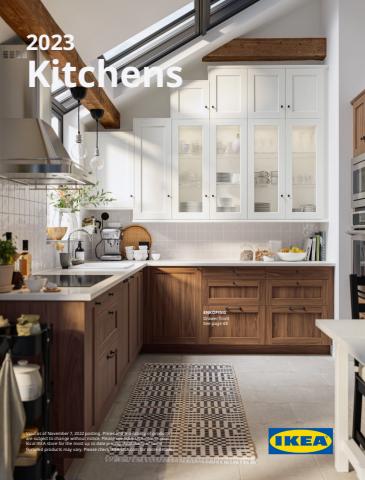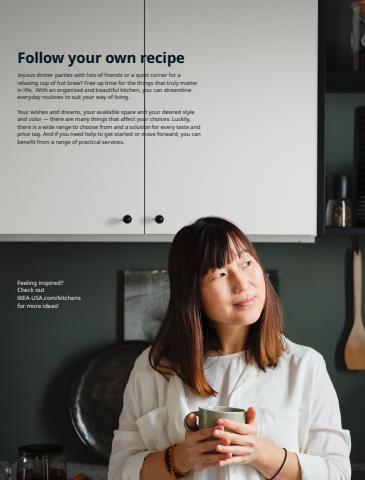 IKEA Kitchen Brochure 2023
Looking for the best Ikea offers
If you are looking for the biggest Ikea discounts you are in the right place. Here on Tiendeo, we have all the catalogues so you won't miss out on any online promotions from Ikea or any other shops in the Home & Furniture category in your city. There are currently 3 Ikea catalogues on Tiendeo. Browse the latest Ikea catalogue "IKEA Kitchen Brochure 2023" valid from 11/19/2022 to 12/31/2023 and start saving now!
Find Ikea offers in your city
Ikea, all the offers at your fingertips
IKEA is well-known for its inexpensive furniture and home furnishings, as well as its innovative business practices.
All about IKEA
IKEA was started in Sweden, but has become known worldwide for its flat-pack furniture, low prices, and of course, their meatballs.
The IKEA furniture style is usually rather modern and sleek, and the interior designs as simple and eco-friendly. Whether you're searching for the perfect IKEA kitchen or IKEA bathroom, you can find what you need. If you're not quite sure what to do with your furniture, there are plenty of DIY IKEA ideas to be found online.
IKEA hours make it convenient to shop, and an IKEA coupon can help you get started on your home project. Become an IKEA family member and save even more! There's no reason why redecorating or remodeling has to be expensive. Get started and inspired now!
The history of IKEA
IKEA was founded by a 17-year old in Sweden in 1943. The stores are very noticeable by their signature blue and yellow colors, which are Sweden's national colors.
IKEA locations can be found in 46 countries today. As of 2016, there are 377 locations worldwide.
One of the things that makes IKEA unique is the store layout, which is set up so that customers have to look at just about every product available. They are also known for selling flat-pack furniture that customers must assemble themselves at home (although they do offer an assembly service for a fee).
IKEA has big plans to develop solar energy around the world to make it less expensive and more accessible for the average person.
In 2013, IKEA took the first steps towards introducing solar energy into the market for the average consumer by selling solar panels in their stores in the U.K.
Next, they started selling the panels in eight more countries. They're planning a big expansion project for 2016, which will include the sale of solar panels online.
Recently, Ikea opened its first wind farm in Hoopeston, Illinois. Their turbines can generate over 65% of the energy needed to power IKEA's stores and distribution centers.
In 2015, IKEA also debuted the largest complex of solar power panels in Missouri on the roof of its St. Louis store. The panels have the power to light 169 homes for an entire year.