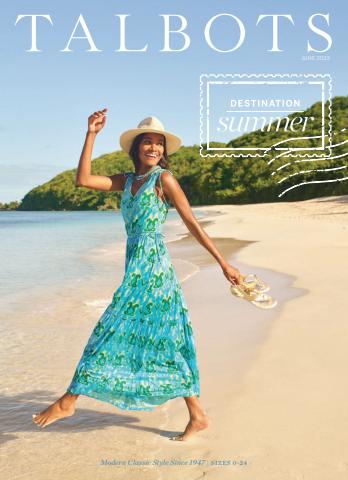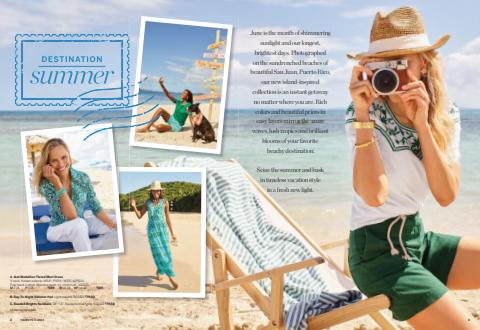 Talbots DESTINATION: SUMMER
Looking for the best Talbots offers
If you are looking for the biggest Talbots discounts you are in the right place. Here on Tiendeo, we have all the catalogues so you won't miss out on any online promotions from Talbots or any other shops in the Clothing & Apparel category in your city. There is currently 1 Talbots catalogue on Tiendeo. Browse the latest Talbots catalogue "Talbots DESTINATION: SUMMER" valid from 05/23/2023 to 06/30/2023 and start saving now!
Find Talbots catalogs in your city
Talbots, all the offers at your fingertips
Talbots is a store that sells clothing, shoes, and accessories for women with a New England twist to its fashions.
All about Talbots
If you're looking for an outfit that's age appropriate but still stylish, then there's a good chance that Talbot's classically preppy designs will appeal to you. They've got a lot of outfits for women of all ages and styles, but a good amount of their styles are perfect for a professional woman with a bit of extra cash to spare. If you need basics, it's also a great place to shop for well-made pieces that are meant to last.
If you love to shop at Talbots, you should definitely sign up for the Talbots e-mail newsletter. That will make you a Talbots Insider and give you access to exclusive offers, invitations to events and shopping parties, sneak peeks of sales, and a heads-up ahead of time when flash sales are going to happen. You can also sign up for the Talbots credit card if you really love shopping there. And, of course, don't forget to add them to your favorite stores right here on Tiendeo!
The history of Talbots
Talbots was founded in 1947 by Rudolf and Nancy Talbot. Their very first store was located in Hingham, Massachusetts. The following year, the Talbots started a direct mail order business, which took off. When it had grown to five stores plus the catalog sales, they sold it to General Mills. Today, there are over 500 Talbots locations.
Talbots went through a bit of an identity crisis
Although you might think that clasically stylish clothing would never go out of style, Talbots found itself with a bit of a challenge on its hands. When they tried to expand their customer base to appeal to younger shoppers, the store nearly left behind its core customers.
The store, which was founded right after World War II, has a reputation for being classic and stylish, although that often means that 30-something shoppers see the store as the place their moms like to shop. Still, when the brand tried to go edgy and add pieces like stiletto shoes and bold statement jewelry, it clashed with the traditional wood and carpet decor of their stores.
The result? Their stock lost 90% of its value in just a decade. But recently, things have turned back around for the store. They went back to their roots and their identity - and got the shoppers they were looking for.