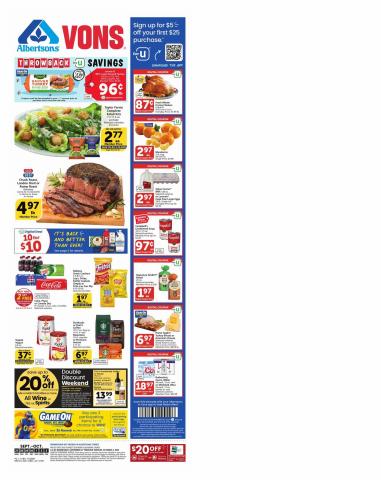 Weekly Ad - Albertsons - SoCal
Albertsons Specials in La Habra CA
Looking for the best Albertsons offers in La Habra CA?
If you are looking for the biggest Albertsons discounts in La Habra CA you are in the right place. Here on Tiendeo, we have all the catalogues so you won't miss out on any online promotions from Albertsons or any other shops in the Grocery & Drug category in La Habra CA. There are currently 2 Albertsons catalogues in La Habra CA. Browse the latest Albertsons catalogue in La Habra CA "Weekly Ad - Albertsons - SoCal" valid from from 26/9 to until 3/10 and start saving now!
The nearest stores of Albertsons in La Habra CA and surroundings
Albertsons Weekly Ad and Coupons in La Habra CA and the surrounding area
Did you know that Idaho-based Alberstons grocery stores are the second-largest chain of supermarkets in all of North America? They've got over 2,200 stores, meaning that the chances are good there's an Alberstons location near you. They also employ over a quarter of a million people to work in their stores. Keep reading to find out more about Albertsons!
Popular products in La Habra CA
Albertsons in other cities