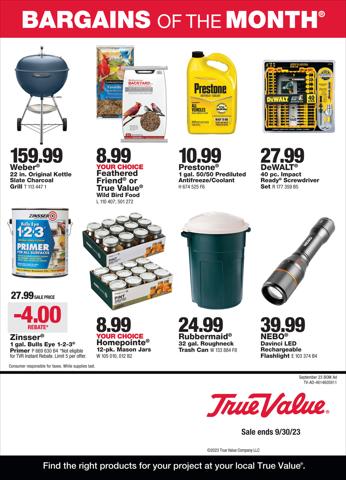 True Value September Bargains of the Month
Looking for the best True Value offers in Hoboken NJ?
If you are looking for the biggest True Value discounts in Hoboken NJ you are in the right place. Here on Tiendeo, we have all the catalogues so you won't miss out on any online promotions from True Value or any other shops in the Tools & Hardware category in Hoboken NJ. There are currently 5 True Value catalogues in Hoboken NJ. Browse the latest True Value catalogue in Hoboken NJ "True Value September Bargains of the Month" valid from from 4/9 to until 30/9 and start saving now!
The nearest stores of True Value in Hoboken NJ and surroundings
True Value Weekly Ad and Coupons in Hoboken NJ and the surrounding area
True Value prides themselves on giving their customers great value when it comes to hardware and other supplies - and that's exactly what they do! This is a cooperative that unites independent store locations across the world. Read on to find out how to save money when you shop at True Value!
Popular products in Hoboken NJ
True Value in other cities