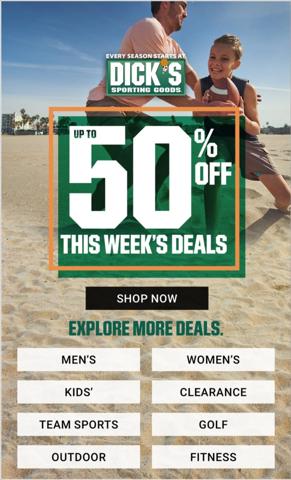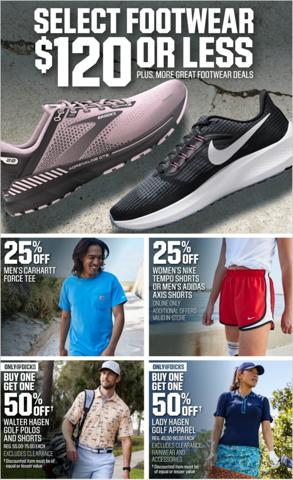 Dick's Sporting Goods Weekly ad
Looking for the best Dick's Sporting Goods offers
If you are looking for the biggest Dick's Sporting Goods discounts you are in the right place. Here on Tiendeo, we have all the catalogues so you won't miss out on any online promotions from Dick's Sporting Goods or any other shops in the Sports category in your city. There is currently 1 Dick's Sporting Goods catalogue on Tiendeo. Browse the latest Dick's Sporting Goods catalogue "Dick's Sporting Goods Weekly ad" valid from 06/04/2023 to 06/10/2023 and start saving now!
Find Dick's Sporting Goods offers in your city
Dick's Sporting Goods, all the offers at your fingertips
Dick's Sporting Goods is one of the world's biggest sellers of sporting goods. It has stores in nearly every single state in the U.S.

All about Dick's Sporting Goods
Dick's Sporting Goods specializes in selling products related to sports and outdoors activites, including fishing and hiking. If you're looking to get out and get active, chances are you'll be able to find what you need at one of your local Dick's Sporting Goods locations.
if you're planning on doing some shopping, don't forget to have a quick look to see if you can find any Dick's Sporting Goods coupons or discounts. They ofeten offer special deals for their shoppers. If you're not sure where to start, why not take a look at the current offers right here on Tiendeo?
You may want to keep an eye out for Dick's Sporting Goods as a sponsor of major sporting events. The Rio Olympics are the biggest sporting event to date that they've sponsored.
The history of Dick's Sporting Goods
Dick's Sporting Goods stores may never have existed at all! When young Richard Stack was 18 in 1948, he worked at a store for Army and Navy products. He suggested to the owner that they start selling supplies for outdoorsy activities like fishing and camping, but his idea was shot down.
But Richard didn't forget his idea. When his grandmother gave him $300, he rented out a storefront and started selling fishing supplies himself. Two years later, it had become a general sports store. The first store named Dick's Sporting Goods was opened in the early 1960s. From there, things kept getting bigger and bigger.
Today, Dick's Sporting Goods has 610 locations across the United States and employs 37,600 people.
Dick's Sporting Goods helps fund youth sports teams across America with their Sports Matter initiative.
Dick's Sporting Goods' Sports Matter initiative helps youth sports teams across the U.S. find funding so they can keep playing the sports they love.

Their website has a simple explanation for its name: "Sports matter because participation in sports makes people better." They add that sports can help kids increase their confidence, build character, and find the motivation to stay in school. In 2014, they announced a $25 million commitment to supporting young athletes.

Their latest move is partnering with DonorsChoose.org, in order "to match up to $1.5 million in donations to public and public charter school sports teams in communities across the country."