Hours Manhattan Mall
Monday - Saturday: 9:00 AM - 9:30 PM
Sunday: 10:00 AM - 8:30 PM
How to get there
100 W. 33rd Street New York
Subway: For your convenience the N, R, F, V, B, D, Q, and NJ Path have direct building access. The 1, 9, A, C, E are located 1/2 block away in Penn Station.
The Manhattan Mall is a shopping mall located in New York City. In the heart of Midtown Manhattan, and 1/2 block from the Empire State Building, the Manhattan Mall stores are composed by several retailers to satisfy every shopper's need.

The Manhattan Mall is a huge shopping center located in the heart of Midtown Manhattan, New York City, at 33rd Street and Sixth Avenue. You can visit the mall whenever you want, because the Manhattan Mall hours are incredibly flexible: Monday - Saturday from 9:00 am to 9:30 am, and Sundays the mall is opened from 10:00 am to 8:30 pm.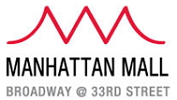 The mall has more than thirty stores within the two levels of the shopping center. The anchor tenant, JCPenney, is on the lower level of the Manhattan Mall, and the main and upper floors have stores to satisfy every shopper's need: cards and gifts, clothes for men, clothes for women, footwear, mobile phone and accessories, health and beauty, electronics... You will find anything you are looking for!!
Some of the stores you will find at this mall are Express, Hallmark, Victoria's Secret, Toys R Us, Sunglass Hut etc. And if at some point you get thirsty or hungry, there are plenty of restaurants and coffees such as Starbucks. Because it is also important to enjoy your stay in the Manhattan Mall with your friends or family, so stop for a while and have a rest!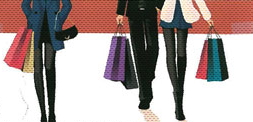 Manhattan Mall Online